Recipes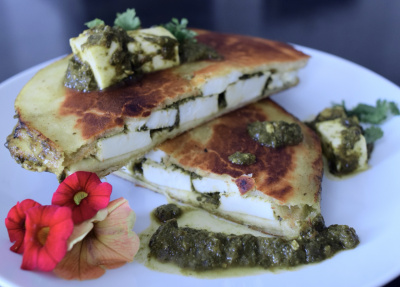 Share
Palak Paneer Grilled Cheese
Ingredients
8 oz. Gopi Paneer cheese, cut into 1″ cubes
4 cups fresh baby spinach leaves, cleaned
2 Tbs. oil
2 green chilis, seeded and minced
1/4 cup yellow onion, finely minced
1/2 cup tomatoes, finely chopped
1/2 tsp. ginger paste (or freshly grated ginger)
1/2 tsp. garlic paste (or freshly grated garlic)
1/2 tsp. sea salt
10 whole cashews
3/4 tsp. garam masala
1/2 tsp. fenugreek
1/4 cup heavy cream
pinch cumin seeds, toasted
green cardamom pods, toasted, pods removed and then crushed
4 Tbs. butter or Gopi Ghee, room temperature
large pieces naan bread
Cooking Instructions
Bring a medium pot of water to a boil.
Blanch the spinach for 2-3 minutes, until wilted.
While still bright green, drain in a large colander, topping with ice to retain the green color, and removing all the moisture.
Melt 1 Tbs. oil in the boiling pot. Sauté the chilis, onion, and salt until soft. Add the cashews and cook until soft.
Add the tomatoes, ginger, garlic, garam masala, fenugreek, and drained spinach. Remove from heat and cover, cooking 3-5 minutes, until all flavors are combined.
Transfer to a food processor or using a stand mixer, pulse until mostly pureed, leaving just a touch of texture to remain.
Meanwhile, toast the cumin and cardamom. Once dry toasted, add to the pot, along with the remaining oil and cream. Stir thoroughly, to combine all ingredients.
Add the paneer and allow the mixture to sit and "simmer" off heat, but on the warm stove, for 10-15 minutes, as the flavors merge and evolve.
Meanwhile, slater the 2 slices of naan with 2-4 Tbs. butter or ghee (room temperature) on all sides.
In a large, hot skillet, place one piece of buttered naan flat. Top with 1 cup of the prepared Palak Paneer (and any additional slices of paneer for extra cheesiness).
Layer with the second slice of buttered naan.
Season with additional salt, if desired.
Cover with foil and press the sandwich flat with an additional heavy pot.
Cook for 3-5 minutes, until the butter caramelizes and begins to smell sweet.
Flip the sandwich and repeat the weighted process and timing.
Remove from heat and allow the sandwich to rest for 3-5 minutes.
Slice and serve, topped with additional Palak Paneer.
Garnish with fresh cilantro, if desired.