Recipes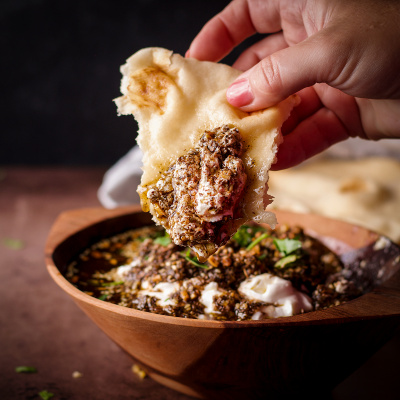 Share
Za'atar Labneh with Crispy Garlic
Serves: 8
Prep Time: 10 minutes
Cook Time: 5 minutes
Ingredients
6 tablespoons extra virgin olive oil
6-8 garlic cloves, minced
4 tablespoons za'atar
1 teaspoon kosher salt
16 ounces Karoun Labneh
¼ cup chopped fresh parsley
Cooking Instructions
Add the olive oil, minced garlic, za'atar, and salt to a small skillet and set it over medium heat.
As it begins to simmer, stir frequently, and cook until the garlic is beginning to turn golden brown and the za'atar is fragrant. This will only take a couple of minutes.
Remove the pan from the heat and let the mixture cool to room temperature.
Scoop the labneh into a bowl, stirring it a bit as you do. Spoon the za'atar and garlic oil over the top of the labneh. Sprinkle with parsley and serve.