top of content
7 Layer Mediterranean Dip
Recipe and photos by Feel Good Foodie


This 7 Layer Mediterranean Dip recipe post is sponsored by Karoun Dairies, although the content represents my own personal opinion and experience using the product.
If you're looking for a party appetizer that will feed a crowd and impress them in the process, you have to try this 7 Layer Mediterranean Dip. It's filled with seven layers of fresh and vibrant ingredients and is perfect for entertaining all summer!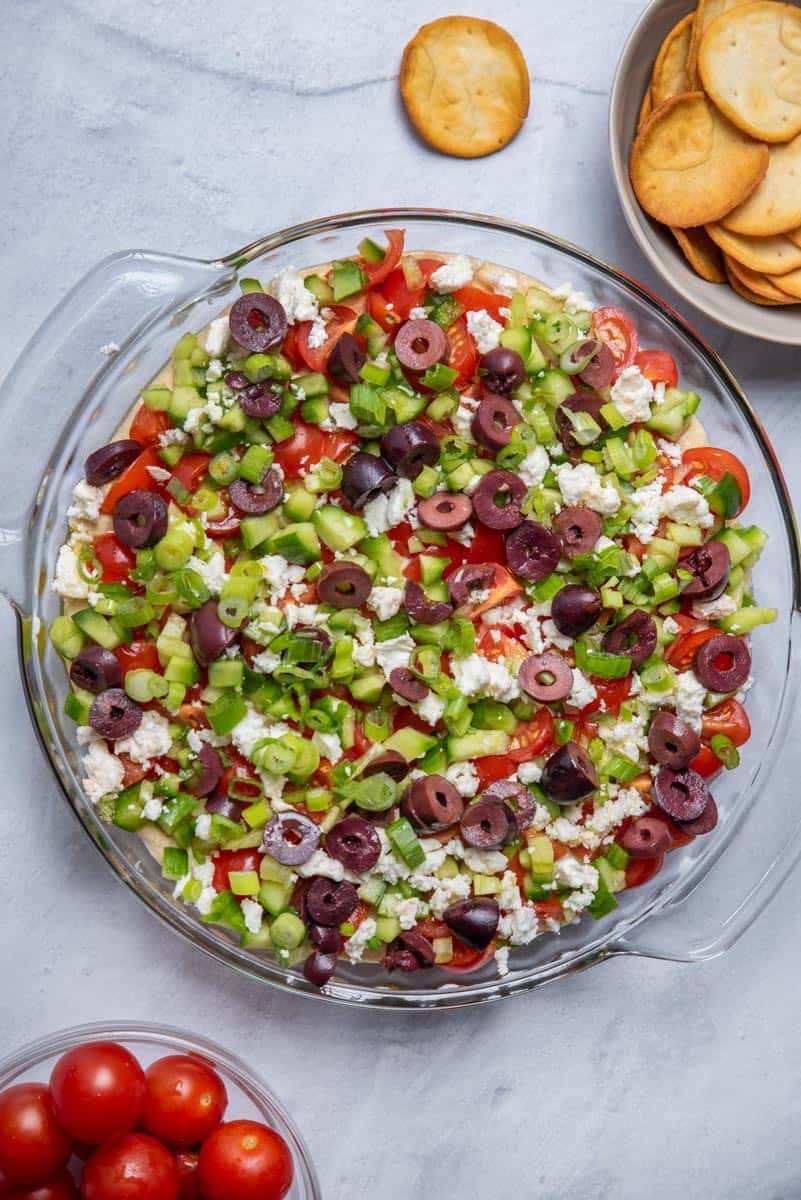 INGREDIENTS & SUBSTITUTIONS
Hummus: This homemade hummus is the base for the dip. The recipe uses chickpeas, tahini, garlic and lemon juice. You can also use store bought hummus instead.
Labne: This is a traditional Mediterranean spreadable yogurt cheese that's known as both labne and labneh. The Karoun Labne has a distinctive tangy flavor and a thick and creamy texture that's perfect for adding to the dip. Plus it's lower in fat and calories than cream cheese or sour cream and most importantly, and contains active probiotic cultures. It comes in Lite, Spicy and Tzatziki, in addition to the regular, so you can use any kind you'd like in this dip.
Tomatoes: Use cherry tomatoes for a little sweetness, or any other kinds. It helps to cut them small so every bite of the dip has a little bit of all 7 layers!
Cucumbers: Cucumbers add a great freshness and crunch to the dip. Opt for Persian cucumbers that are smaller and sweeter, but you can use English cucumbers if that's what you have.
Feta cheese: For a creamy texture and slightly briny flavor, feta cheese is the perfect addition. Karoun has a delicious Valbreso French Feta that would work well for this recipe. Goat cheese would work well too or a farmer's cheese.
Olives: Olives add a great saltiness and really compliment the other ingredients and it's truly a must in Mediterranean recipes
Green onions: They are more mild than white and perfect as a layer or light garnish on top of the dip depending your preference. You can also use red onions or shallots
HOW TO MAKE 7 LAYER MEDITERRANEAN DIP
MAKE THE HUMMUS
Place rinsed and dried chickpeas in the bowl of a food processor.
Blend them alone until they become powder-like. You'll need to scrape down the sides a couple times.
Add lemon juice, tahini, garlic cloves, salt and ice cubes (it lightens the color and gives it an ice cream like texture).
Blend until it's smooth and creamy.
LAYER THE DIP
Start with the hummus layer. Make sure to spread it as evenly as possible to take over the entire dish.
Spread the labne on top. Don't worry if it starts to mix with the hummus, but do your best to keep them separate so the layers are more visible.
Add the chopped cherry tomatoes.
Throw on the cucumbers.
Sprinkle the feta cheese and sliced black olives.
Finish it off with a generous sprinkling of sliced green onions.
TIPS FOR MAKING THE RECIPE
Use high quality labne. Not all labne is created equal. Karoun Labne is made with real California milk from cows not treated with the growth hormone rBST. You can taste the difference.
Stir the labne really well before adding on top of the hummus. This helps to make it more creamy and more spreadable.
Add spices to it. You can pump up the flavor of the 7 layer dip by adding some common Mediterranean spices like cumin, mint, zaatar or sumac. Add them to the hummus layer, labne layer or just on top.
Assemble before serving. While the layers don't bleed too much into each other, the presentation is best when it is freshly prepared. So make the hummus in advance, chop the vegetables and assemble 10 minutes before you need it.
Use a clear baking dish or serveware. Is it really a 7 layer dip if you can't see all 7 delicious Mediterranean layers?!
FREQUENTLY ASKED QUESTIONS
How long does the dip last?
This dip is best enjoyed soon after being made, but it will keep well in the fridge for up to 5 days. Make sure to cover it tightly with a plastic wrap to keep the layers intact.
What else can you use in the layers of the dip?
The beauty of this dip is that you can customize it to what you have on hand or your taste preferences. Try adding sundried tomatoes, roasted red peppers, tapenade, zaatar, artichokes, pesto or even guacamole. The sky's the limit!
What do you serve with this Mediterranean dip?
The best thing to serve with the dip is some pita chips. You can use store bought pita chips or make these easy homemade pita chips in the oven while you prepare the dip.
This 7 Layer Mediterranean Dip is a fun change from the popular Mexican inspired dip with beans and guacamole. This Mediterranean version is bright, beaming with colors and texture and will surely disappear quickly at parties.
7 Layer Mediterranean Dip
Try this easy Mediterranean twist on the popular 7 layer dip for your next party; perfect appetizer to feed a crowd and dip with pita chips! AUTHOR
Yumna Jawad
SERVINGS
8
servings COURSE Appetizer CALORIES 165 PREP TIME20 mins COOK TIME0 mins TOTAL TIME20 mins
INGREDIENTS
For the Hummus
â–¢2 15 ounces can chickpeas rinsed and drained
▢⅓ cup lemon juice
â–¢¼ cup tahini
â–¢3 garlic cloves
â–¢1 teaspoon salt
â–¢4-5 ice cubes
For the Remaining Layers
â–¢8 ounces Karoun Labne
â–¢½ pint cherry tomatoes quartered
â–¢2 Persian cucumbers diced
â–¢2 ounces crumbled feta cheese
â–¢½ cup pitted kalamata olives sliced
â–¢4 green onions sliced
â–¢Extra virgin olive oil for drizzling
â–¢Pita chips for serving
INSTRUCTIONS
Make the hummus. Place chickpeas in the bowl of a food processor. Blend them alone until they become powder-like, scraping down the sides as needed. Add lemon juice, tahini, garlic cloves and salt and ice cubes, and blend for about 5 minutes until smooth.
Spoon the hummus onto a shallow serving bowl, and spread the hummus with the back of a spoon. Add a layer of labne, followed by cherry tomatoes, cucumbers, feta cheese, olives and green onions.
Drizzle olive oil on top right before serving, and enjoy with pita chips.
NOTES
Storage:
This dip is best enjoyed soon after being made, but it will keep well in the fridge for up to 5 days. Make sure to cover it tightly with a plastic wrap to keep the layers intact.
Nutritional Data: Please note that the nutrition label provided is an estimate based on an online nutrition calculator. It will vary based on the specific ingredients you use. It does not include the olive oil for drizzling or the pita chips for serving
SHARE THIS RECIPE
RECIPE AUTHOR Yumna Jawad