top of content
Recipes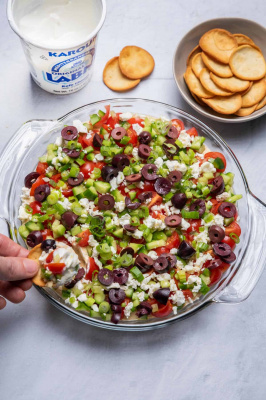 Printable Version
Share
7 Layer Mediterranean Dip
Try this easy Mediterranean twist on the popular 7 layer dip for your next party; perfect appetizer to feed a crowd and dip with pita chips!
Recipes & Photos by
Feel Good Foodie
INGREDIENTS
For the Hummus
2 15 ounces can chickpeas rinsed and drained
â…" cup lemon juice
¼ cup tahini
3 garlic cloves
1 teaspoon salt
4-5 ice cubes
For the Remaining Layers
8 ounces Karoun Labne
½ pint cherry tomatoes quartered
2 Persian cucumbers diced
2 ounces crumbled feta cheese
½ cup pitted kalamata olives sliced
4 green onions sliced
Extra virgin olive oil for drizzling
Pita chips for serving
PREPERATION
Make the hummus. Place chickpeas in the bowl of a food processor. Blend them alone until they become powder-like, scraping down the sides as needed. Add lemon juice, tahini, garlic cloves and salt and ice cubes, and blend for about 5 minutes until smooth.
Spoon the hummus onto a shallow serving bowl, and spread the hummus with the back of a spoon. Add a layer of Karoun Labne, followed by cherry tomatoes, cucumbers, feta cheese, olives and green onions.
Drizzle olive oil on top right before serving, and enjoy with pita chips.
Products related to this recipe