top of content
Recipes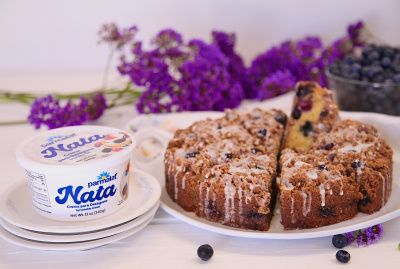 Printable Version
Share
Blueberry Pecan Nata Coffee Cake
BLUEBERRY PECAN COFFEE CAKE!!! This is the ultimate snacking cake. The kind you wish was hanging out in the house on a Sunday afternoon so you could get really friendly with it. What sets this coffee cake apart from the rest is the beautifully moist texture of the cake. Thanks to Parmalat Nata it stays moist until the cake is all gone, which always happens too fast.

Written by Presley's Pantry
Blueberry Pecan Nata Coffee Cake:
Prep: 30 minutes
Bake: 60 minutes
Cool: 1 hour
Yields: 12 servings
Pecan Streusel Topping:
2/3 cup packed brown sugar
1 cup all-purpose flour
2 teaspoons cinnamon
6 tablespoons butter, chilled
½ cup chopped pecans
Blueberry Cake:
½ cup vegetable oil
1 cup sugar
2 large eggs
1 tablespoon vanilla
2/3 cup Parmalat Nata
1 ½ cups all purpose flour
1 teaspoon baking powder
1/2 teaspoon baking soda
½ teaspoon salt
1 cup blueberries
Icing:
1 cup confectioners sugar
2 tablespoons milk
¼ teaspoons vanilla or almond extract
Directions:
Preheat oven to 350 degrees Fahrenheit.
Spray (1) 9-inch round pan with non-stick baking spray, then line the bottom of the pan with parchment paper. Set to the side.
Pecan Streusel Topping: In a food processor combine brown sugar, flour, cinnamon, and butter. Pulse until combined and small pea shaped balls are formed. Remove mixture from food processor and place in a bowl. Mix in pecans to combine. Place mixture in refrigerator until ready to use.
Blueberry Cake: In a stand mixer fitted with a paddle attachment beat oil, sugar, eggs and vanilla on medium speed until combined. Using a rubber spatula scrape down sides of bowl, then add in Parmalat Nata and mix on medium speed to combine. Whisk flour, baking powder, baking soda, and salt together in a separate bowl, then sprinkle it over the wet ingredients. Just mix until ingredients come together. Fold in blueberries.
Pour cake batter into the prepared baking pan, then smooth out the top using a butter knife or offset spatula. Sprinkle pecan streusel topping evenly over top.
Place cake on middle rack of oven and bake for 60 minutes or until toothpick inserted in the middle comes out clean.
Cool for 1 hour before removing cake from pan and placing on a serving plate.
Icing: Whisk all ingredients together and then drizzle icing over the top of the cake.
Products related to this recipe