top of content
Recipes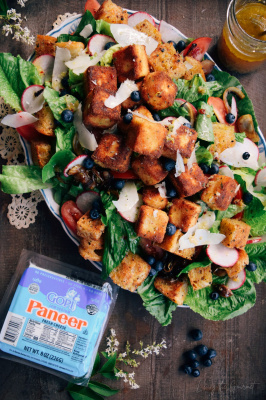 Printable Version
Share
Fried Paneer Salad
Written by: Living the Gourmet
Serves: 4
Prep Time: 10 minutes
Cook Time: 15 minutes
Ingredients
For the Fried Paneer:
1 package 8 oz. Gopi Paneer, cubed
1 large egg
1/2 cup AP flour
1 cup bread crumbs
For the Salad:
1 large heart of romaine
2 roma tomatoes (better boy, beef steak, heirloom, or grape tomatoes are also fine), sliced
1/2 small sweet onion, thinly sliced
1/3 cup sliced radishes
Shavings of Parmesan
1/2 cup large croutons
1/2 cup wild blueberries (strawberries are also fine), optional
For the Lemon & Roasted Garlic Vinaigrette:
4–5 cloves roasted garlic, crushed
Zest of 1/2 lemon
1/4 cup apple cider vinegar with mother
3 tablespoons water
1/2 cup olive oil
1/2 teaspoon sea salt
1/2 teaspoon black pepper
1/2 teaspoon red pepper flakes
1/2 teaspoon dried oregano
Cooking Instructions
Set up your dredging station for the Paneer, then dip the cheese first in flour, egg, and breadcrumbs.
In a small saucepan heat some vegetable oil, just enough to coat the bottom of the pan. Once the oil is hot enough, fry the cheese. Be sure not to overcrowd the pan.
Transfer the cheese to a paper towel lined plate to absorb any excess oil. Set aside.
In another small pan, caramelize the onion with just a teaspoon of sugar. Once golden, remove and set aside.
In a serving platter or bowl, arrange the salad leaves and desired veggies. Top with the fried paneer, caramelized onions, shavings of cheese, and croutons.
In a small jar, mix all the ingredients for the vinaigrette. Shake well before serving over salad. Enjoy!
Products related to this recipe