top of content
Recipes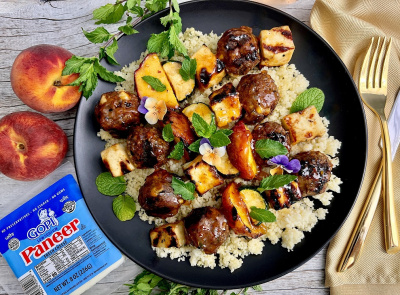 Printable Version
Share
Glazed Lamb Meatball, Paneer, Peach, And Zucchini Skewers Over Couscous
Written by: Dish Off The Block
Ingredients
The Meatballs:
1-pound ground lamb meat
1 teaspoon Italian spice blend
1 teaspoon cumin
1 teaspoon paprika
½ teaspoon cinnamon
1 teaspoon salt
1 teaspoon black pepper
3 large garlic cloves, chopped
2 tablespoons fresh mint, chopped
2 eggs, beaten
½ cup Gopi Paneer Fresh Cheese, cut into ¼" dice
½ cup panko breadcrumbs
1 tablespoon olive oil
The Couscous:
¼ cups chicken stock
1 cup couscous
2 tablespoons lemon juice
1 tablespoon olive oil
The Glaze:
2 cups apricot preserves
½ teaspoons red pepper flakes
½ teaspoons cinnamon
The Skewers:
1, 8 ounce package Gopi Paneer Fresh Cheese, cut into 1" dice
peaches, cut into 1 – 1 ½" thick wedges
small zucchini, cut into ½" thick half-moons
3-4 tablespoons olive oil
½ – ¾ teaspoon salt
1/3 cup mint leaves, chopped if large (or whole if small)
Cooking Instructions
Clean the racks on the grill with a scrub brush and lightly oil. Preheat to 450 degrees. If you are using wooden skewers, soak them in water for at least 30 minutes.
In a large bowl, combine all of the meatball ingredients. Knead the mixture with your hands until well combined and form into small meatballs, about 2" in diameter. You should have 18-20 meatballs. Place in the fridge while you prepare the rest of the ingredients.
To make the couscous, bring the chicken stock to a boil. Remove from heat and stir in the couscous, lemon juice, and olive oil. Cover and let sit for 10 minutes. Fluff with a fork and keep warm until ready to serve.
To make the glaze combine the apricot preserves, red pepper flakes, and cinnamon in a saucepan. Bring to a boil and whisk until the preserves are melted. Reduce heat to a simmer and keep warm until you are ready to grill the skewers.
To prepare the skewers, thread the meatballs, pieces of paneer, peaches, and zucchini on the skewers alternating on the skewers. Drizzle them all over with the olive oil and season the paneer, peaches, and zucchini with the salt (meatballs are already seasoned).
Place the skewers on the preheated grill. Baste with some of the glaze, close the lid and cook for 2 minutes. Open the grill and turn the skewers, generously basting with more of the glaze. Continue this process, basting and turning, until the paneer and zucchini have nice grill marks and the meatballs are just cooked through (about 160 degrees).
Serve the skewers over the couscous and garnish with the mint leaves and more glaze.
Products related to this recipe