top of content
Recipes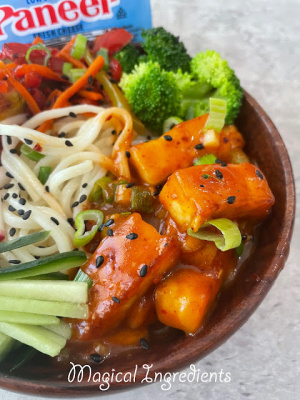 Printable Version
Share
Gochujang Paneer Bowl
Written by: Magical Ingredients
Serves: 2-3
Ingredients
Gopi Paneer - 200 g, 1.5-in rectangle pieces
Red bell pepper - 2/3 cup
Green bell pepper - 2/3 cup
Carrots - 2/3 cup
Broccoli - 2/3 cup, small florets
Salt - 1/3 tsp
Gochugaru - 1/2 tsp
Green onions - 2, sliced
Sesame oil - 2.5 tbsp
Ginger - 1 tsp, finely chopped
Garlic - 1 tsp, finely chopped
For Noodles
Noodles - 75-100g, any noodles
Salt - 1/2 tsp
Water
Oil - 1 tsp
For the Sauce
Gochujang - 1/2 tbsp
Gochugaru - 1/2 tsp
Soy sauce - 1/2 tbsp
Brown sugar - 1/2 tsp
Sesame oil - 1 tsp
Corn starch - 1 tsp
Water - 1/2 cup
For Assembly
Cucumber - 1/4 cup, matchsticks
Radish - 1/4 cup, matchsticks
Sesame seeds - 1 tsp, toasted
Cooking Instructions
Heat a teaspoon oil in a pan and add the carrots and bell peppers, sauté on high heat for 2-3 minutes. Add salt and gochugaru, cook for a minute. Remove from flame and set aside. The veggies should be crisp tender.
Mix the ingredients for the sauce in a bowl and set aside.
In the meantime, start cooking the noodles according to package directions. Set the noodles aside, blanch the broccoli.
Heat the remaining oil in the pan and fry the Gopi paneer pieces till golden brown. This may take about 5-6 minutes.
Add the ginger and garlic, followed by white parts of green onion and cook for 1-2 minutes.
Add the sauce, cook for 1-2 minutes.
Remove from the flame and garnish with green onions
For assembling the bowl: Divide the noodles into 2 bowls. Add the sautéed veggies, blanched broccoli, cucumber, and radish. Add the gochujang paneer with the sauce on to another side. Garnish with green onions and sesame seeds. Serve immediately.
Products related to this recipe