top of content
Recipes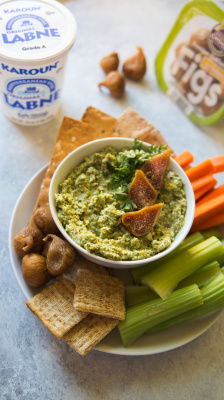 Printable Version
Share
Herb Scallion Fig Labne Puff Pastry Bites
Recipe and Photos by Annelies Zijderveld
Makes 2 1/4 cups dip // 27 puff pastry bites
INGREDIENTS
7 oz Orchard Choice or Sun-Maid California Dried Golden Figs, stemmed + chopped
8 oz (1/2 cup) Karoun Mediterranean Labne
1/2 bunch parsley leaves
4 scallions, quartered, root ends cut
4 ounces feta
1/2 teaspoon red chile flakes
1/4 teaspoon kosher salt
1 large egg, lightly beaten
3 sheets puff pastry, thawed to manufacturer's instructions
DIRECTIONS
1. Preheat oven to 400F. Line a half sheet pan with parchment paper.
2. In a food processor, mix figs, labneh, parsley, scallions, feta, chile flakes, and salt until chunky.
3. Cut each puff pastry sheet into 9 squares. Place 1 tablespoon fig labneh filling in the center of each square. Brush pastry square edges with egg wash. Fold pastry corners up into the middle. Pinch to seal. Brush pastry with egg wash.
4. Bake for 20 minutes or until golden brown.
NOTE:
The delicate and nutty flavor of California Golden Dried Figs from Orchard Choice and Sun-Maid give just enough sweetness to this zippy green dip. Make it a meal: Stir cooked, chopped chicken into the filling above. Cut each puff pastry sheet into 4 squares and fill with 3 tablespoons per square. Then bake as above, until golden brown. Or, skip the puff pastry and you've got a solid dip to serve with crackers or on crostini.
Products related to this recipe