top of content
Recipes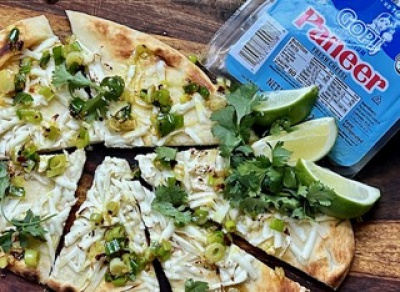 Printable Version
Share
Indian Paneer Naan Bread
Written by: The Prize of Cooking

Serves: 12
Ingredients
8 scallions, diced
1 tsp. chili flakes
1 tsp. curry powder
1 tsp. pressed fresh garlic
1/3 cup avocado oil (or a neutral high heat oil)
1/4 tsp kosher salt
4 large flat naan bread
1-8oz. Gopi Paneer cheese, shredded
1/2 cup cilantro leaves/sprigs
2 limes, cut into wedges
Cooking Instructions
In a small mixing bowl, add the diced scallions, chili flakes, curry powder and pressed fresh garlic.
Heat the oil over medium high until it begins to shimmer on the surface and give off a light smoke. Once the oil is screaming hot, carefully pour it over the scallion mixture. Stir to allow all of the mixture to blend together. Season with the kosher salt and set aside.
When ready to serve the bread, turn the oven to broil. Moisten the naan breads with a sprinkling of water and top with the shredded Gopi Paneer Cheese.
Broil two at a time or whatever amount your oven allows. Allow the bread and paneer cheese to toast. The broiling time may differ depending upon the heat of the broiler and the position of the rack. Watch carefully and turn as needed for even toasting.
Remove from the baking sheet and broil the remaining two naan breads with paneer cheese.
Drizzle the cheesy naan bread with the Scallion Red Pepper Curry Oil and garnish with the cilantro leaves/sprigs. Cut into wedges. Serve with the fresh lime slices and enjoy!
Products related to this recipe