top of content
Recipes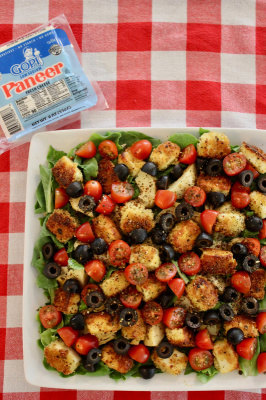 Printable Version
Share
Mediterranean Salad with Crispy Paneer Cheese
Summer and salads just go together! It doesn't get much better than fresh lettuce and tomatoes from the garden. Try something new with this delicious Mediterranean Salad with Crispy Paneer Cheese.
Written by: HomeEc at Home
Serves: 4
Ingredients
6-8 oz. lettuce, like romaine, butter crunch, or mixed greens
12 oz. jar marinated artichoke hearts
1 can 2.5-6oz. pitted black olives, depending on how much you like olives
1-2 cups grape or cherry tomatoes
1/4-1/2 cup red onion, diced (optional)
8 oz. Gopi Paneer cheese
1/4 cup all purpose flour
1/2 cup buttermilk or 1/2 T. Lemon juice plus enough milk to fill the measuring cup to 1/2 cup
1 egg
1/2 cup panko bread crumbs (Italian or plain)
Olive oil
3/4 tsp. Mediterranean seasoning* or Italian seasoning plus more for topping
Flavored olive oil (like lemon or orange infused), optional for flavor
Balsamic vinegar, Maple vinegar or other flavored vinegar, optional for flavor
Fresh ground salt and pepper
Cooking Instructions
Prepare lettuce and plate on a large plate or small platter.
Cube Paneer cheese.
Place flour in a small bowl.
Whisk egg and buttermilk to combine.
Place panko crumbs in another small bowl. Add Mediterranean seasoning to the panko crumbs. Salt to taste.
Coat the cheese cubes in flour first, then buttermilk, then panko crumbs.
Heat the oil over medium high heat until sizzling.
When oil is hot, add the breaded cheese cubes. The cheese will cook quickly. Turn to brown on all sides, then remove from skillet.
Layer the artichokes, olives, tomatoes, onion, and then cheese on the salad.
Dress with flavored olive oil and vinegar or your favorite dressing.
Top with fresh ground salt and pepper and more Mediterranean seasoning to taste.
Products related to this recipe