top of content
Recipes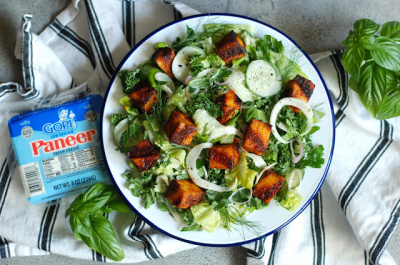 Printable Version
Share
Nashville Hot Chicken Paneer Croutons on Buttermilk Chopped Salad
Written by: Fleur Delectable
Ingredients
2 tablespoons canola oil
½ teaspoons cayenne pepper
½ teaspoons smoked paprika
1 teaspoon light brown sugar
1 teaspoon cajun seasoning
3/4 teaspoons garlic powder
3/4 teaspoons onion powder
½ teaspoon mustard powder
½ teaspoon salt
½ teaspoon white pepper
2 cups chopped romaine lettuce
2 cups Butter lettuce, torn into bite sized pieces
2 cups finely shredded kale
1 cup thinly shaved fennel
1 cup sliced seedless cucumbers
¼ cup thinly sliced shallot
¼ cup fresh basil leaves, thinly sliced
¼ cup flat leaf Italian parsley leaves
½ teaspoon Cajun seasoning
1/3 cup buttermilk ranch dressing
Cooking Instructions
Whisk together the canola oil, cayenne pepper, smoked paprika, brown sugar, cajun seasoning, garlic powder, onion powder, mustard powder, salt and white pepper in a small sauté pan and cook over low heat, for 3-5 minutes, or until warmed through.
Preheat a grill pan or outdoor grill to high heat.
Cut the paneer cheese into bite sized cubes and toss in the oil mixture. Thread onto metal skewers and grill for 1 minute per side, or until lightly charred. Remove from the heat and brush with any remaining oil mixture.
In a large serving bowl gently toss the romaine, Butter lettuce, kale, fennel, cucumbers, shallot, basil, parsley and cajun seasoning. Drizzle the salad dressing over the mixture and toss to evenly coat the greens. Place the grilled paneer on top and serve immediately.
Products related to this recipe