top of content
Recipes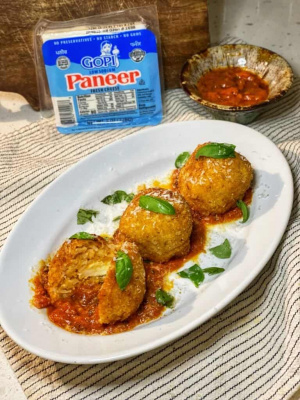 Printable Version
Share
Paneer Cauliflower Rice Arancini
Cauliflower rice is mixed with a blend of ingredients not only to bind, but to also add so much flavor. Gopi Paneer, although not much of a melting cheese, became super smooth and creamy, and complimented these rice balls so perfectly.
Written by: Charlotte Fashion Plate

Serves: 8
Prep Time:
Cook Time: 28 minutes
Ingredients
16 ounces cauliflower rice, warm
3 to 4 ounces Gopi Paneer
2 tablespoons marinara
1/2 cup Parmesan cheese, plus more for garnish
1/2 teaspoon black pepper
1 teaspoon garlic powder
1 teaspoon flour, plus
1/2 cup seasoned bread crumbs
1/2 cup panko
2 tablespoons Parmesan cheese
2 eggs
1 tablespoon milk or cream
1/2 teaspoon salt
1/2 teaspoon black pepper
oil for frying
1 tablespoon fresh basil, for garnish
marinara for serving
Cooking Instructions
Cook the cauliflower rice according to package directions.
Drain any excess liquid and place into a bowl.
Add the Parmesan cheese, two tablespoons of marinara, black pepper, and garlic powder.
Mix. Check consistency.
Add the flour. If the rice forms a ball, not need to add more flour. If not, add flour until the rice binds.
Place two spoonfuls of the cauliflower rice mixture into the palm of your hand.
Place a small chunk of Gopi Paneer in the center.
Wrap the rice around the cheese to form a ball. Finish with the remaining rice mixture.
Place on platter and into fridge for at least 10 minutes to set.
Heat enough oil in a pan for a medium fry. Oil should not be too hot!
Mix the both bread crumbs and the Parmesan cheese in a separate bowl.
In another bowl, whisk together the eggs, cream, salt and pepper.
Dredge each rice ball into the egg. Fully coat in the bread crumb mixture.
Fry until golden brown.
Salt immediately.
To serve, add a spoonful of marinara onto a plate. Place a rice ball.
Garnish with fresh basil and freshly grated Parmesan cheese.
ENJOY!
Products related to this recipe