top of content
Recipes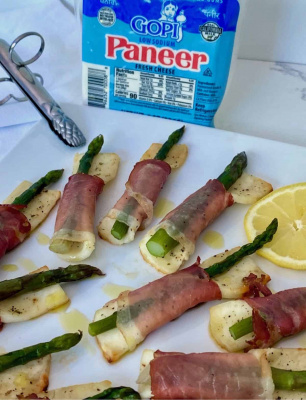 Printable Version
Share
Paneer, Proscuitto & Asparagus Tapas
Serves: 20
Prep Time: 20 minutes
Cook Time: 6 minutes
Ingredients
2 tablespoons lemon infused extra-virgin olive oil or plain extra virgin olive oil
20 spears fresh asparagus trimmed to 4-inches in length
1 (8 oz) package Gopi Paneer, sliced into ¼-inch thick slices
1–2 tablespoons lemon pepper seasoning
1 (5.29 oz) package prosciutto (10 slices), cut into 4-inch lengths
Fresh lemon wedges
Cooking Instructions
Heat oven to 400F. Line a baking sheet with foil. Lightly coat the foil with olive oil.
Blanch asparagus in boiling water for 2 minutes or until just tender. Transfer asparagus to an ice water bath to cool down and retain bright green color. Pat asparagus dry with paper towels.
Lay paneer slices on a work surface. Sprinkle both sides of paneer with lemon pepper seasoning. Top each slice of paneer with 1 piece of asparagus lining up bottom edges. Wrap each bundle with a piece of prosciutto leaving asparagus tip and top of cheese exposed.
Place bundles seam side down on prepared baking sheet. Brush bundles lightly with remaining olive oil.
Roast for 4 to 6 minutes or until edges of cheese are just golden.
Arrange tapas on serving plate. Squeeze fresh lemon juice over the top.
Products related to this recipe