top of content
Recipes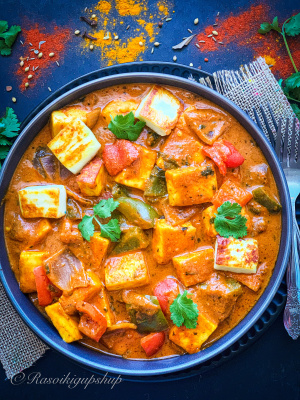 Printable Version
Share
Paneer Tikka Masala
Grab your Gopi Paneer today and try this wonderful Paneer Tikka Masala recipe from
@rasoikigupshup
Serves 4
INGREDIENTS
1 onion, diced
1 bell pepper, diced
2 tomatoes, pureed
5-6 black peppercorn
1/2 cinnamon stick
1 black cardamom
2-3 green cardamom
Dry Spices
Salt to taste

DIRECTIONS

Take a teaspoon of oil, saute the veggies and Gopi Paneer for 2 minutes only.
Take a pan, throw in some onions, tomatoes, whole spices together along with salt and water.
Puree them when cooled down. Heat a pan with a tablespoon of oil or butter and cook the puree.
Add Dhaniya Powder, Garam Masala, Kashmiri Mirch and a pinch of Haldi. Cover the lid and cook for 6-7 minutes.
Add the Gopi Paneer and veggies and coat with Masala.
Enjoy with Naan or Paratha's.
Products related to this recipe