top of content
Recipes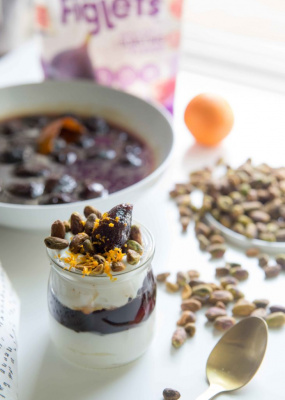 Printable Version
Share
Sweet White Wine Honey Syrup Poached Figs Dessert with Labne
Honey syrup with sweet white wine infuses into this poached figs dessert by Chef Joanne Weir that's layered with creamy labneh—a fig lover's no bake treat.

Recipe by Chef Joanne Weir
Photos by Annelies Zijderveld
Serves 6
INGREDIENTS
3 cups Muscat wine or Moscato sparkling wine
1/2 cup honey
4-inch strip orange peel
1 1/2 teaspoons finely grated orange zest
12 ounces Orchard Choice® or Sun-Maid® California Dried Figs , stems removed
2 cups Karoun Labne
3/4 cup shelled, roasted, and salted pistachios, coarsely chopped
PREPERATION
Bring Muscat wine, honey, 1 cup water and 4-inch orange peel to a boil over high heat. Reduce heat to low, add the figs and simmer, covered, until the figs are tender, 25 to 30 minutes. Remove the figs with a slotted spoon and set aside to cool completely.
Increase the heat to high and simmer until the syrup has reduced by three-quarters and thickened, about 10 to 15minutes. Take off the heat and return the figs to the pan.
In a low 6-ounce jar, spoon half of 1/3 cup of labneh into each jar, distributing evenly between the jars. Spoon the figs and their liquid into the jars distributing evenly. Top with the remaining labneh and sprinkle on about 1/4 teaspoon of the finely grated orange zest onto the top. Cover with a lid and place in the refrigerator. Just before serving, remove the lid and sprinkle the pistachios onto the top.
Products related to this recipe