top of content
Recipes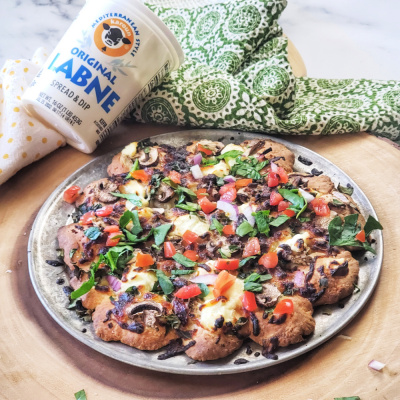 Printable Version
Share
Veggie & Labne Pizza with Pull-Apart Crust
Written by: The Fit Fork
Treat yourself to pizza night, but don't you dare resort to frozen or consider take out.! That's because I have something even easier and so much better — My Veggie & Labne Pizza with Pull-Apart Crust.

Serves: 2
Prep Time: 10 minutes
Cook Time: 12 minutes
Ingredients
½ cup Karoun Mediterranean-style Labne Kefir cheese
1 ½ teaspoons of baking powder
1 cup flour or gluten-free flour baking blend
¼ teaspoon garlic salt
3/4 cup shredded mozzarella divided
1/2 cup Karoun Mediterranean-style Labne Kefir cheese
1/2 cup sliced mushrooms
1/2 cup shredded spinach
¼ cup red onion slices
¼ cup chopped tomato
Cooking Instructions
In medium bowl, mix together Labne, baking powder and flour with spoon. Will be crumbly, then use hands to knead it together into a cohesive dough ball.
Pinch of 1-inch dough balls (I got approximately 18) and place on a 9-inch to 10-inch pizza pan.
Press balls down with fingers until flattened and edges mostly touching. It's okay if there are a few spots of pan showing through.
Sprinkle dough with garlic salt. Sprinkle with ½ cup shredded mozzarella and vegetables.
Dollop up to ½ cup additional Karoun Mediterranean-style Labne Kefir cheese on top of veggies. Sprinkle with remaining ¼ cup of reserved mozzarella.
Bake for approximately 12 minutes or until crust browned and cheese bubbling.
No need for a knife or pizza cutter, just pull apart into pizza bites!
Products related to this recipe