top of content
Recipes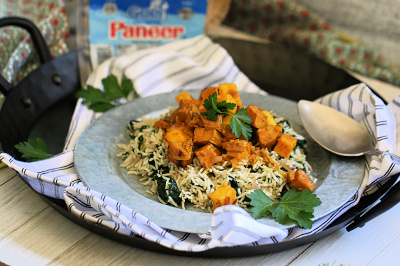 Printable Version
Share
Coconut Gopi Paneer-Grilled Chicken and Spinach Rice
My recipe is a riff on saag paneer incorporating the Gopi Paneer instead of homemade and served with delightful spinach-infused rice. The sauce is smooth and spicy with a hint of acidity added from freshly squeezed lemon juice. The Gopi Paneer and grilled chicken are a robust combination of proteins; perfectly matched for maximum flavor. This is a new family favorite recipe.
Written by: At Home with Rebecka

Serves: 4
Prep Time: 15 minutes
Cook Time: 25 minutes
Ingredients
3-4 tablespoons Gopi Ghee or olive oil divided
Cup red onion chopped and divided
Tablespoons minced garlic
8 ounce package Gopi Paneer chopped into cubes
Pounds grilled, cooked chicken breast
½ teaspoon ground turmeric
Tablespoon paprika
Teaspoon curry powder
½ teaspoons cayenne pepper
Teaspoon granulated sugar
13 ounce can unsweetened coconut milk
½ teaspoon fish sauce optional if not available
Cups cooked rice
5 oz package baby spinach, prewashed about 5 cups
Cooking Instructions
For the Paneer and Chicken
Sauté 2 tablespoons minced garlic, and ½ cup red onion in 1 tablespoon of oil or ghee until translucent. Add chopped chicken and chopped paneer. Stir to combine. Add powdered spices and sugar and cook for 3 minutes to allow the oils to release. Stir over medium heat
Add coconut milk and fish sauce. Cook until reduced by half.
For the Spinach Rice
Sauté 1 tablespoon minced garlic and ½ cup red onions in 2 tablespoons oil or ghee. Add spinach and cook until all the juices are gone. Remove from pan and chop roughly.
Add butter and 1 more tablespoon of oil to the spinach pan. Add cooked rice and stir until well coated with butter mixture. Add the spinach back into the pan and continue cooking over medium heat, stirring for 5 minutes.
To Serve
Serve coconut paneer chicken over spinach rice and garnish with fresh lemons and parsley
Products related to this recipe