top of content
Recipes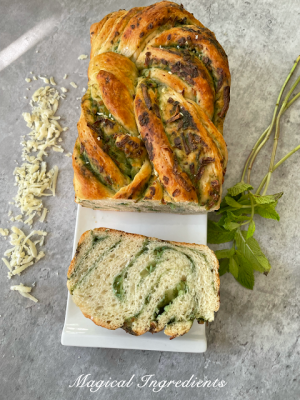 Printable Version
Share
Chutney and Paneer Babka
Written by: Magical Ingredients
Ingredients
Makes 2 loaves or 16 buns
Bread flour - 4.5 cups
Aquafaba - 9 tbsp
Butter - 1/2 cup, room temperature
Salt - 1.5 tsp
Sugar - 2 tsp
Active dry yeast - 2 and 1/4 tsp
Carom seeds - 1 tsp
Water - 1/2 cup
Milk - 1/2 cup
For Filling
For Brushing
Aquafaba - 2 tbsp
Garlic butter - 1 tbsp
Cooking Instructions
Activate the yeast by adding the yeast to warm water with sugar in it. Add the rest of the ingredients except butter into a stand mixer and set it on low to medium speed.
When a shaggy dough forms, add butter in four or five portions and knead for 10 minutes. Drizzle a little olive oil and let the dough rise for an hour.
The dough would be more than double.
Transfer to a flour dusted surface, punch, knead, and chaffe the dough. Divide into two portions.
Roll each portion into 10X16-in rectangle. Spread 3-4 tablespoons of green chutney. Sprinkle a cup of shredded paneer.
Roll into a log. Leave an inch at one end, cut in the middle of the log lengthwise.
Twist and overlap each side into a twisted log.
Join the ends into a coil and place in a 10X5-in loaf pan(parchment lined or buttered followed by sprinkling flour).
Let it prove for an hour. Preheat the oven to 350 degrees F in the meantime.
Bake for 45-47 minutes. Check the doneness by checking inside temperature or tapping at the bottom for hollow sound. Remove from the oven. Brush with garlic butter.
Cool completely. Serve with chai, with or without butter/curries.
Products related to this recipe